Dr. Sheila Roley earns state Breaking Barriers Achievement Award for 2018
Seaside AAUW is pleased to announce that Dr. Sheila Roley, local school superintendent, has been awarded the state Breaking Barriers Achievement Award. Dr. Roley had been recognized as our local representative as she exemplifies AAUW's mission having a huge impact on the lives of girls and women of Seaside since 1990.
She earned an undergraduate degree from University of Washington and later a Master and Doctorate degree from Lewis and Clark in Portland. She served the educational community in numerous leadership roles locally and as an adjunct faculty member at Portland State University and Lewis and Clark College.
In this Seaside community she has been the first female high school principal and first woman Superintendent of Schools. As such she has modeled for the community, her staff, and all the young girls and women under her leadership that women can aspire to and be effective in top organizational roles. When notified that she had received our local award, she said, "The opportunity to work with talented and dedicated young teachers has been one of the most meaningful parts of my work. Every teacher with whom I worked has taught me more than I have taught them."
Dr. Roley will be recognized at the state AAUW convention on April 21 at Tanasbourne Embassy Suites, Hillsboro, OR.  She will be the headline speaker for the luncheon.  For ticket information please contact Ann Evensen, 1156 NW Redfield Circle, Bend OR 97703 or evensenann@bendbroadband.com.
---
To our Members regarding Bylaws vote:
State AAUW President Kathi Dew sent out the following memo reminding all members to vote on the by-laws amendments. One of the issues up for adoption is the dropping of the degree requirement for membership. As our members in Seaside have long endorsed this policy and have both community supporters as well as a high school supporter, we now have the opportunity to vote for its universal adoption and full membership benefits for all supporters. We will be providing support at our coming meetings to show how you can exercise your vote if you have any questions.
---
Recent Seaside AAUW activities include a get acquainted meeting for new members at the home of president Cindy Gould.  New members Donna Perdun, Bonnie Callow, Lila Moore, Glenda Phillips, Julie Weinberg, and Bebe Michel learned about programs through our local AAUW as well as state and national opportunities and programs.
Other December activities include a Christmas party for the walking group at the Shilo Inn on the promenade of Seaside:
December program was a cookie exchange and directed artistic painting under the direction of Linda Schaeffer. Jane McGeehan, and Gheri Fouts
---
Seaside AAUW Press Release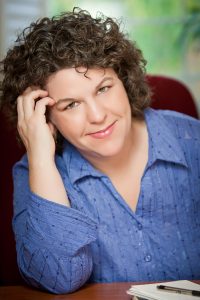 Seaside AAUW will be featuring Polly Campbell, motivational speaker and author of three books on living well at their October 21st meeting in Cannon Beach at Breaker's Point Community Room, at 10:00AM.  This is an open meeting for anyone interested in her message and/or AAUW.
"Inspiring, funny, insightful" are a few of the words used to describe Polly Campbell and the keynotes, trainings, and workshops she offers.    Each presentation is created to provide practical, science-based strategies and practices audiences can use in the moment to ease stress, promote well-being & happiness, and better positive outcomes.
Polly's down-to-earth, funny, and practical approach engages audiences and motivates them to take small, deliberate actions to get big positive results in their lives.   Polly inspires and empowers people to become the creators of their own lives, instead of complaining about the lives they are living.
Ms. Campbell was raised locally in Seaside and now resides in the Portland area.   She is widely sought after for workshops and has often been featured on Portland television and other venues.  Her published books are How to Live Well, Do Good, Be Happy; Imperfect Spirituality; Extraordinary Enlightenment for Ordinary People; and her latest How to Live an Awesome Life. 
 For more information about AAUW, an organization which advances equity for women and girls through advocacy, education, philanthropy, and research contact local AAUW president Cindy Gould at aauwseaside@gmail.com.   Polly Campbell may be reached at p2campbell@comcast.net.
Seaside AAUW Program for 2017-2018
Sept. 19: "Sex Trafficking and Domestic Violence", Beach Books
Oct. 21: "Be Inspired: Living Well" Breaker's Point Com. Room, Cannon Beach
Nov. 18: "Panel: Exploring K-12 Girls' Needs" Diana McLoughlin, Gearhart
Dec. 16: "Painting Workshop & Cookie Exchange" Trails End Gallery, Gearhart
Jan. 20: "At Risk Youth" Foster Club, Seaside
Feb. 10: "WINGS Conference" Clatsop Community College, Astoria
Feb. 17: "Fourth Wave Feminism" Nancy Kruger's home, Surf Pines
March 17: "Hispanic Issues" Cindy Gould's home, Gearhart
April 20-22: Oregon AAUW Convention, Hillsboro
May 12: "Spring into Fashion", Astoria Golf & Country Club
May 19: "Care-giving our Own" Jane McGeehan's home, Gearhart
June 16: "Scholarship Winners & 2018-19 Program " Ellen Silverman's, Warrenton
---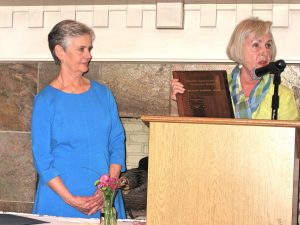 Seaside AAUW honored Sheila Eagan Roley, Superintendent of Schools in Seaside, with their 2017 Breaking Barrier's Achievement Award at their "Spring into Fashion" show held April 29th at the Astoria Golf and Country Club.   She is pictured here with branch president Carol Brenneman who is displaying the plaque in her recognition.  The award also includes a $500 award which she has delegated to an "at risk" group for girls at our local middle school.
Roley has been part of the educational community of Seaside since 1990 serving in numerous capacities and excelling in her ability to inspire thousands of young women under her watch.   She also has been an adjunct faculty member of Portland State University and Lewis and Clark College.    She is this community's first female high school principal and superintendent of schools.
In accepting the award, Roley inspired those present with her talk indicating that we don't always know the impact we can and do make on others……particularly students.