SEASIDE AAUW AWARDS BREAKING BARRIERS AWARD AT SPRING STYLE SHOW
Seaside AAUW recognized the Honorable Judge Dawn McIntosh at their third annual style show held May 12 at Astoria Golf & Country Club. The event was held to raise money for the Scholarship Foundation which provides scholarships for women returning to school, first generation college attendees, and Tech Trek for middle age girls from our local area. This year close to $4000 was cleared with the addition of these sponsors: Columbia Bank, Dane Gouge's Astoria Ford, Lum's Toyota Auto Center, Norma's Seafood, Sundial Travel, and Windermere.
Judge McIntosh first moved to Clatsop County in 1998 and was hired as the chief deputy district attorney. She supervised all child abuse and major sex crimes from 1998-2003 and received numerous awards for her work. In 1999 she was named the Oregon District Attorneys Association's Child Abuse Prosecutor of the Year. In 2001 she received an FBI award for her outstanding record in prosecution of offenders. As an instructor at Clatsop Community College, she received the college's Meritorious Service Award. After a stint in private practice she won the Judgeship in 2016. She is pictured here with AAUW president Cindy Gould who is awarding her the local Breaking Barriers' Award for 2018 for Seaside AAUW.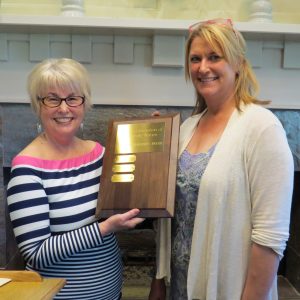 Our local committee, headed by Jane McGeehan and mistress of ceremonies, included Kathleen Hudson, volunteers; Caryl Scharf, silent auction; Linda Schaeffer, finance; and Karin Webb and Carol Brenneman, models and merchants. Along with the other volunteers who modeled, acted as greeters, sold tickets, donated wine, and took pictures, nearly 3/4 of our members participated in some way.
Pictures here include the following: Diana McLoughlin with her granddaughter Eli Wright representing Eddie Bauer; Glenda Phillips and Ted Cooper for Nike; Majestik DeLuz and Roy Gronquist for VanHeusen; Angela Sidlo and Sarah and Kathryn Dailey for TerHars; Jan Barber for Maggie & Henry's; Rossy and Lucia Gautier for TJ Maxx; Joanne McIntyre and Janet Todd for Christopher & Banks; Sarah Buckmaster and Kathleen Hudson with the owner Kathy Kleczak of La Luna Loca; Meagan Sokom,l and Karen Beck for Rachael M; Iolanda Ramirez for Dena's on the Corner; and Peggy Dawson for Astoria Golf and Country Club.
---
The American Association of University Women (AAUW) advances equity for women and girls through advocacy, education, philanthropy, and research. AAUW believes that together we can transform society for the better. Our vision is simple — we bring people together united behind the common goal of breaking through educational and economic barriers for women and girls. By joining our more than 150,000 members and supporters, as well as 1,000 local branches and 700 college and university partners, you become part of AAUW's powerful voice.
Source: Search Results women equality: AAUW
---
AAUW's Mission
AAUW advances equity for women and girls through advocacy, education, philanthropy, and research.
AAUW's Value Promise
By joining AAUW, you belong to a community that breaks through educational and economic barriers so that all women and girls have a fair chance.
---