Seaside AAUW met in May to review & update strategic goals and establish monthly programs for the year.
Pictured here is Karen Beck, Program chair, who is leading a discussion of possible programs for the coming year to match our mission and goals.   Cindy Gould is listening to branch members as they provide ideas to meet those goals.
Officers for the coming year include:   Diana McLoughlin and Karin Webb co- presidents; Cindy Gould membership chair; and Jonel Glass, secretary.
---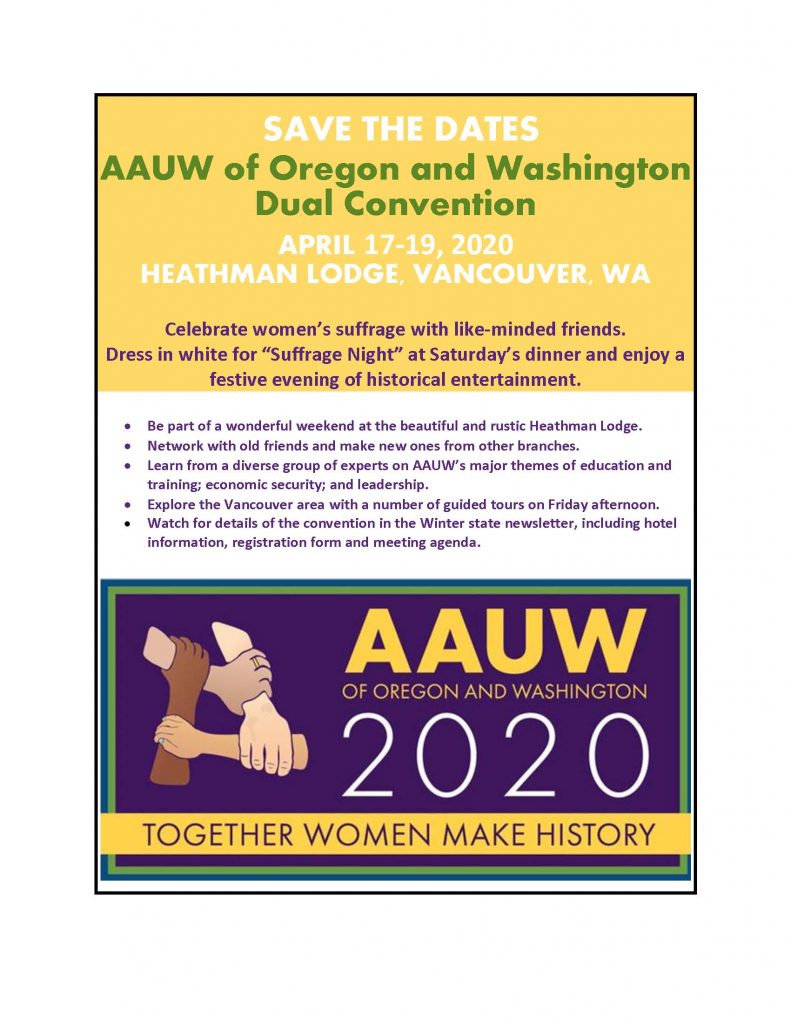 ---
Seaside Scholarship Foundation Receives Donations and Awards Scholarships for 2019
Seaside AAUW Scholarship Foundation has recently announced a donation from Windermere Foundation and a grant from Pacific Power Foundation.   Grants and donations help fund college scholarships for local young women who are either the first in their family to attend college or are returning to college after a five-year absence.
Pictured below are Jane McGeehan, Foundation chair; Pam Ackley from Windermere Foundation; and Pat Johns,  Joanne McIntyre and Tricia Howell, board members with Seaside AAUW.
Jane McGeehan is pictured with Alisa Dunlap, Pacific Power Regional Business Manager accepting the grant on behalf of Seaside AAUW Scholarship Foundation.
Seaside AAUW has been giving scholarships to local women totaling more than $30,000 since the 1990's as well as helping to support local middle school girls attend a summer Tech Trek program and honor a local girl or woman as part of the Breaking Barriers Award program.  Beginning modestly with a scholarship of $300 in 1990, the foundation was granted 501c3 status in 2005.
Donations for this important work can be sent to Seaside AAUW Scholarship Foundation and mailed to PO BOX 693, Seaside, OR 97138.
---
AAUW's Mission
AAUW advances equity for women and girls through advocacy, education, philanthropy, and research.
AAUW's Value Promise
By joining AAUW, you belong to a community that breaks through educational and economic barriers so that all women and girls have a fair chance.
---