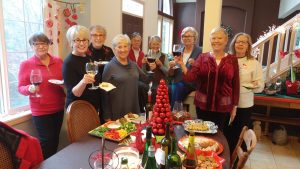 Our November discussion of the Winston Churchill biopic "The Darkest Hour" received the grade of "A". On December 18, 3-5 pm we will consider "A Wrinkle in Time", based on the 1962 book by Madeleine L'Engle. This 2018 film stars Oprah Winfrey, Reese Witherspoon and Chris Pine. "Two children have been without their scientist father for five years, ever since he discovered a new planet." Please join us at the home of Judy Carder:
598 N. Marion, Gearhart. Kathleen Hudson will moderate. We will also be voting on our first three movies for 2019, so bring your ideas!  Last names A-L will bring an appetizer to share; M-Z wine/cold beverage. If you haven't tried us out yet, this is a great time of year to see what the fun is all about. Please view the film on your own before attending. Questions? (503) 735-5919.
See you at the movies!
Karin